Kimchi industry promotion
A hub of global Kimchi culture and the science of fermentation. World lnstitute of Kimchi
Kimchi industry promotion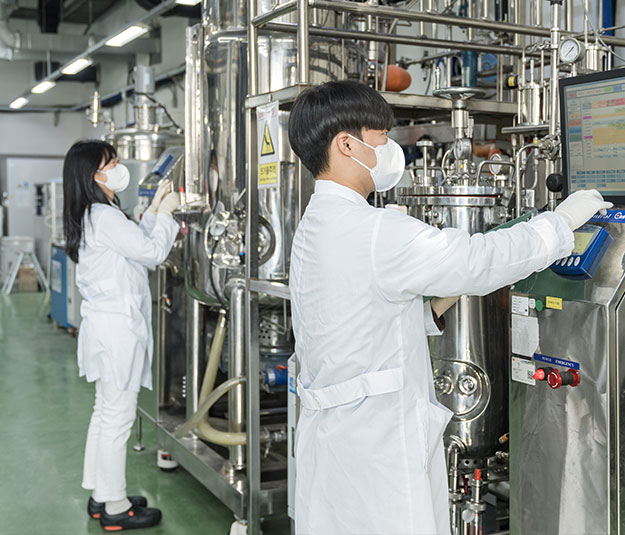 Department Overview
The Practical Technology Research Group enhances collaborations between universities, private enterprises, and research institutes researching practical technology based on advanced R&D and provides support for the commercialization to kimchi businesses for the advancement of the kimchi industry.
Major Areas of Research
01Research into the standardization of kimchi and its raw/subsidiary ingredients
02Research into kimchi manufacturing process automation based on IoT
03Research into commercialization technology for the long-term distribution of ingredient kimchi
04Development and application of technology for kimchi processing
05Recycling and eco-friendly processing technology for byproducts from kimchi ingredients
06Recycling and eco-friendly treatment technology for byproducts of kimchi ingredients in Busan
07Operation of the Kimchi Resource Bank (providing information on quality characteristics of kimchi ingredients)
08Research and support for enterprise demand technology
Research Overview
Development of technology to ensure the competitive price of processed kimchi based on industrial demand
Mechanization and automation of production processes Stabilization of raw material supply Development of technology to utilize byproducts of kimchi processing Development of hybrid technology for long-term storage of kimchi
Background Most Kimchi manufacturers are small in scale, making it difficult for them to directly develop technology. Therefore, there is a need for the advancement of the industry through the development of applied technology in the industrial field
Goal To secure the competitiveness of the kimchi industry by developing technologies for automation and mechanization of the kimchi production process and stabilizing the supply of kimchi raw materials.
Significance Contribute to the advancement of the kimchi industry and the enhancement of global competitiveness of commercial kimchi through innovation in kimchi production processes based on demand, as well as the improvement of price competitiveness in the kimchi industry.
Next-generation intelligent kimchi factory model
Automated seasoning equipment